Annonse
Read Sophies amazing story.
By Sophie from Budapest, Hungary (29), photographer and Tine Holm, editor, Norway.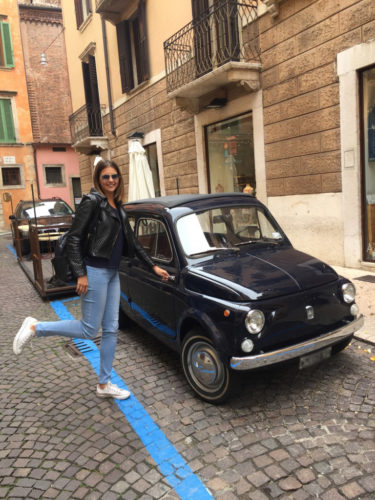 3 months, 3 countries, 3 languages
Since I was 20, I have had the feeling that all I want to do is travel. I wished I could go abroad to study, but I did not have money, and my college did not offer any program to do a school year exchange.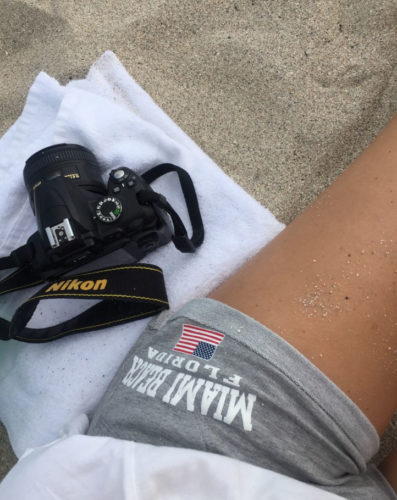 I found a brochure from a company which offered language courses in different cities. You can choose how many weeks you want to travel, and where, and they have destinations all over the world. I knew at once what I wanted:
Miami because it feels like my second home
Italy somewhere because half of my family lives there
Barcelona, because I really want to learn the Spanish language and the city is magic.
I always kept this brochure next to my bed. I knew that I was going to make my dream come true. I worked hard for years and each month I put some money in a box to save up for the trip.
«The years passed by and sadly there was a huge trauma in my private life. I needed nearly one year after that to live a normal life again. I was heartbroken.»

I found this brochure again, and got a strong feeling that the time has come to do this trip.
«I really had the feeling this trip would bring me back to life.»
I started to find schools, ask bids, check my timetable, so the journey began to come together. I can't describe the feeling when I realized my long hidden dream would eventually come true. After a lot of organization, I was ready for the big adventure.
First stop: MIAMI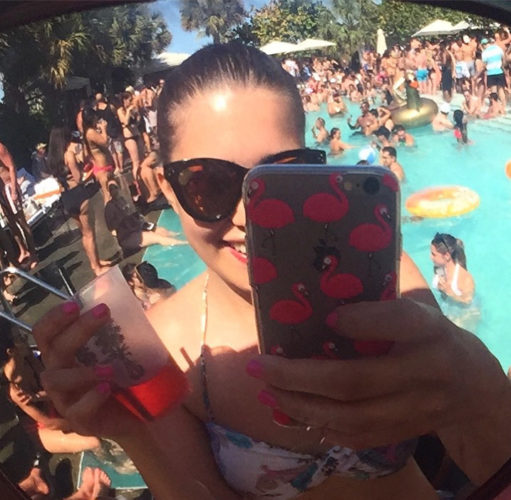 «2nd of April 2017 I was on the plane on my way to Miami. I was really nervous, because this was really a movie-moment, when you have troubles in your life, and you make a big decision and just jump into the unknown.»
I wrote a diary during the trip, and it is so fun to read it now.
Miami was not unknown for me, I had been there before, and really it feels like my second home. This time I was alone and I had fears.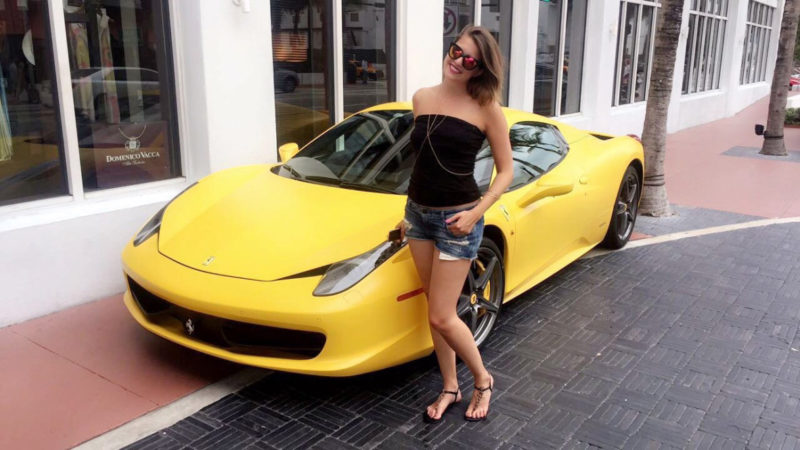 But after I walked out of the airport, all of my fears disappeared and I knew I was in the best place I could be. And omg it was! I had a fantastic 1 month!!! I went to school every day to improve my English. I was also practicing my job, I am a photographer, and Miami is the best background for me.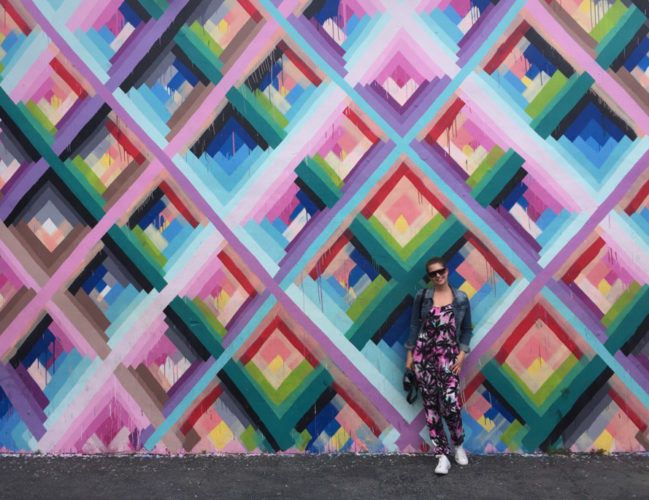 «During daytime I had school and workouts, and at nighttime dinners, friends, pool parties. This was the dream life.»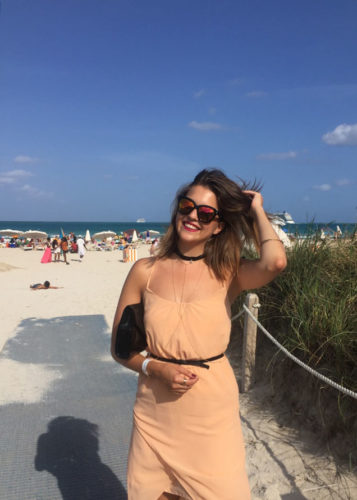 My school was on South Beach. I also lived on South Beach. The school offers you various options, you can live on-site in the school building with other people, you can have your own apartment, or what I chose: A hotel room with a roommate from the school. The school was only  a 15-20 minute walk away…  In the morning I could see the city awaken.
I had a really fantastic group with the funniest woman I have ever met, our teacher Helen.
«The best thing about learning language in Miami is that you can go and swim in the swimming pool or have a dip in the ocean between lessons.»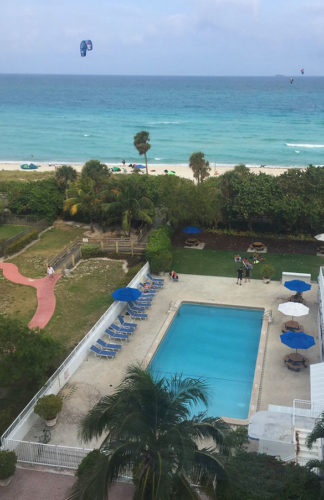 My English improved a lot, but the best way to learn a language is really to go out. In Miami it's not hard to find partners for conversations, because everybody is so open and helpful. Me and my partner in crime Jennifer went out every day, every night and we were practicing.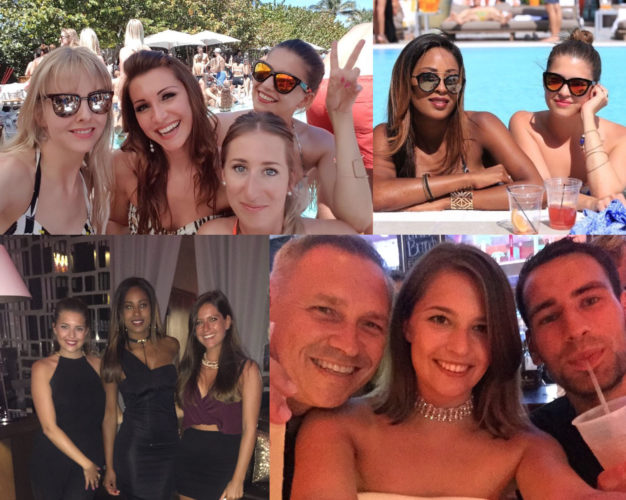 The life in Miami is not cheap, especially for Northern Europeans, so if you want to go there, you need a lot of money to live.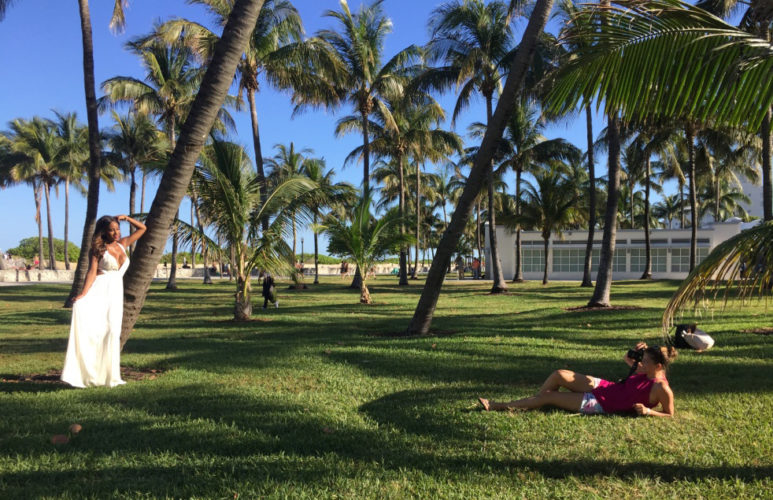 Best experience: My whole Miami-trip was an amazing experience, but if I have to choose it is maybe just the feeling that nobody is shy here, and it is really normal to just stand up and dance if you hear music while you have dinner for example. I like that!
Also the amazing Saturday hard pool party's and Sunday soft pool parties with chill music in the background. Nice way to spend the weekend like this. Oh, and don't forget the amazing photoshoots with my friends. I loved every minute of it.
School: EF-Education First, the price depends on how many weeks you have, which intensity you want etc.
Second stop: ITALY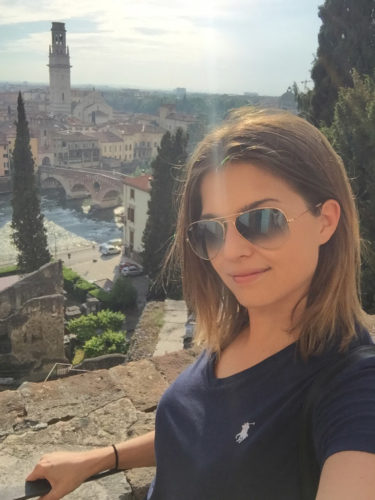 My second stop was Verona, Italy. The original plan was Rome, but after one trip to this amazing city Verona,  I got the feeling I wanted to live there for a while. As a photographer, this was heaven for me. Those tiny balconies… I took hundreds of photos of them.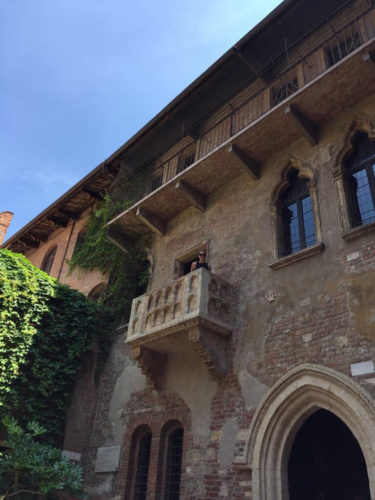 I also found this school on the internet. I wrote to them and they immediately wrote me back, and gave me information. This school also offered options to live in a private apartment or to live with a family. I chose to live with a family. My room was nice and clean, so I liked it. But you have to bring warm clothes also, because in Italy the heating is not that important, and you can feel frozen.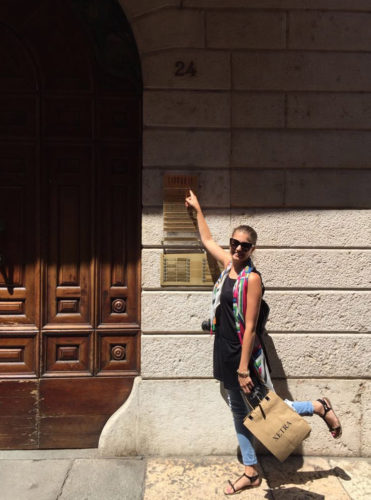 The school was amazing, very strict but very effective. After 1 month I really could speak a little with real Italians. It was a very nice feeling. Half of my family live in Italy and this was the first time I could speak with my aunt's husband in his own language. If I can mention what was the best experience – that was!!!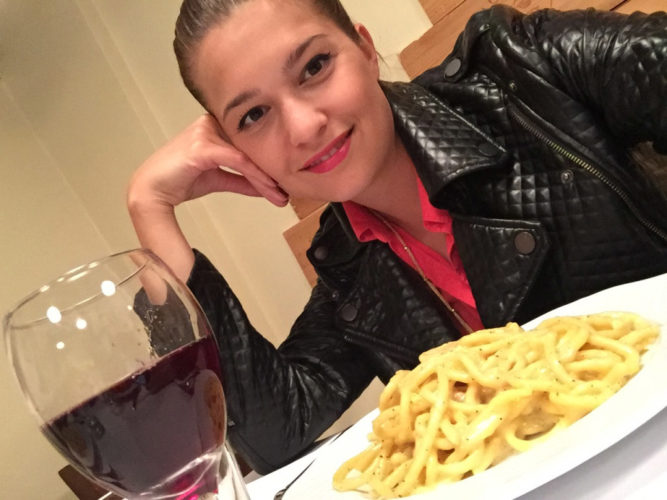 The other was a dinner with my school mates. I loved the feeling that people from all over the world were connected.  Carol and James, an American couple invited us to their apartment – an amazing dinner with Italian food and wine.
«We laughed a lot, we supported each other, and had so much fun. That was the best night there.»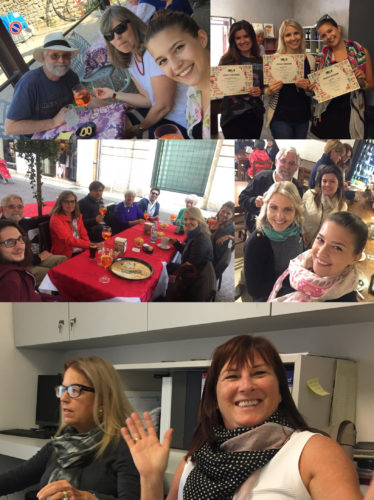 The school organized very nice trips, for example to the botanical gardens and trips to Valpolicella's wineyard. They have cooking classes every week, where you can learn the real italian kitchen practices. With my friends I also did some private trips to Venice and Sirmione.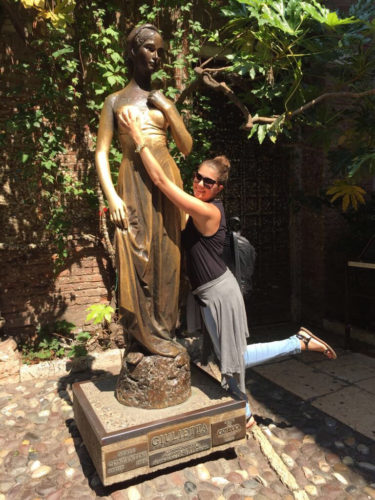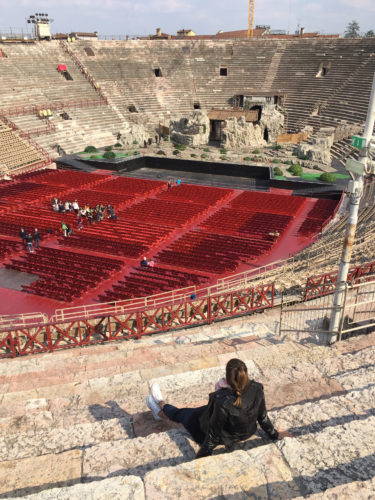 In Verona I really liked the feeling of living in a small city. It's very safe. The food is amazing and there are no bad restaurants. What I really enjoyed and loved in Verona was the feeling that I saw almost every day Julietta's balcony. I was standing there day by day and told myself:
«This is unbelievable:  I live here and I can see this magic every day. How lucky I am.»
School: Lingua It
Third stop: BARCELONA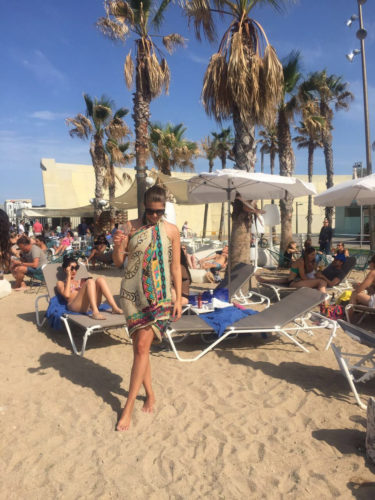 My last destination was Barcelona, Spain. To be honest, at this time I started to feel tired. Two months I had lived in small apartments with no luxury. I just brought one bag and as a woman I started to feel I missed my comfort zone.
«But this was part of the plan. To step out of the comfort zone. And when I entered my apartment in Barcelona, I felt I really did step out of it. It was crowded and dirty.«
I lived with 7 other Erasmus students and shared a kitchen and a bathroom. It was quite an interesting experience at the age of 29 after living years in my own apartment.
At least I had my own private room with a nice view, and a double bed, so I stayed there, but I did not really mind to move out after 1 month.
«The best experience for me was the salsa school and salsa classes.»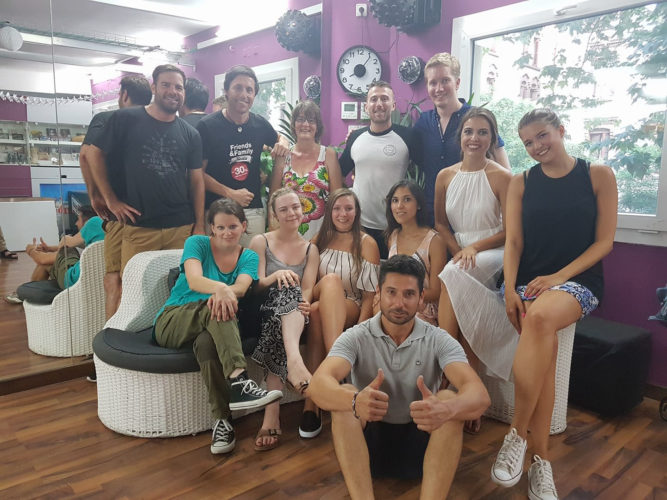 The school offers a package with 20 hours school and 2 nights of salsa per week. I loved these classes, our group was filled with very nice people.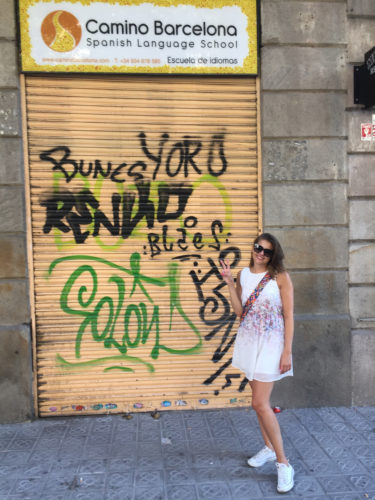 Learning salsa in Spain with a Spanish teacher and amazing music in the background, how authentic. What an experience that was!
Also I went for a Flamenco night once. So passionate so energetic, wooow, definitely a bucket list thing.
«I was crying during the performance, which really surprised me, but the dance and music together was really powerful.»
The school system is also quite strict, you have to take exams to go up levels, and continue learning. After 3 weeks I did one level up. 🙂 The school organizes very nice trips, my favorite was to Palafrugell, a real treasure/pearl on the Costa Brava.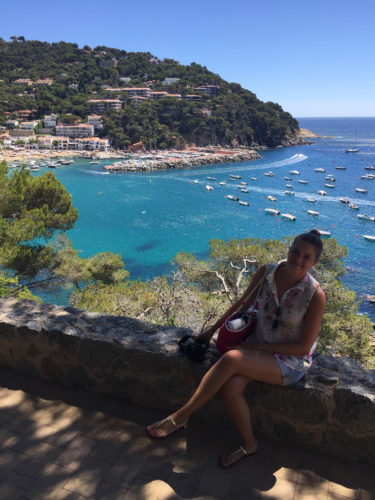 What I liked about the school is that they try to hold your hand and offer programs every day of the week. Every Monday the school invite you for a drink in a bar next to the school building. Monday can be more fun with this. They also organize salsa on the rooftop, paella cooking, so various programs.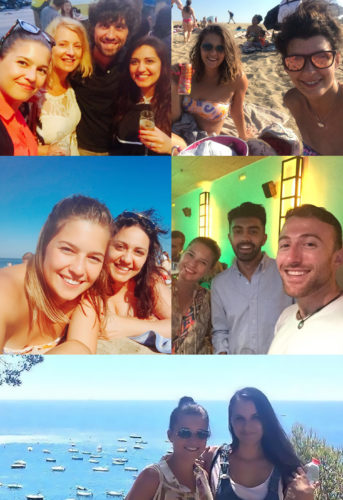 School: Camino Barcelona.
So what are my thoughts about these 3 months…
First of all I am really grateful, because the memories will be with me forever.
I met lots of interesting people from all over the world, and made amazing friends, which I know can be lifetime friendships.
I was curious what my feelings would be after these 3 month. What would I learn?
«After my not so easy past I really went there to find some answers. And I found some of them.»
Maybe the most important thing that I learned is that everybody has their own past. Everybody has their own story, and they are not fairytales.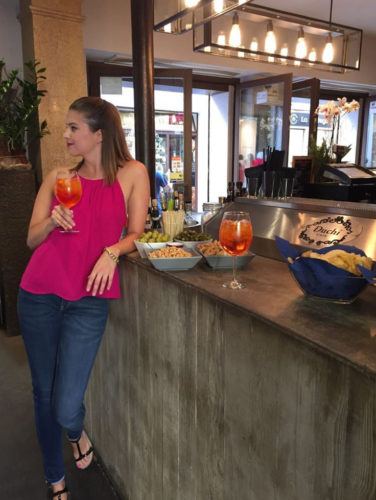 Some people who I met were escaping from something, some people were there to close something, some to start something new.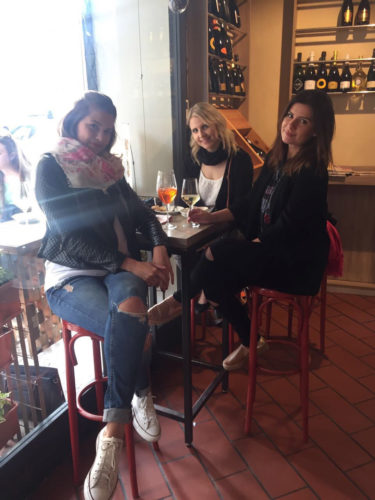 «We all had our demons, but we got up from the floor because something forced us to go on our journey.»
I know we met for some reason, we all taught something to each other.
We were different, but we had one common thing in common:
«We were brave enough to step out of our comfort zones and do something for ourselves.»
We jumped off from a cliff to the unknown. Was it scary? Oh yes, scarier than you expected. But it was worth it.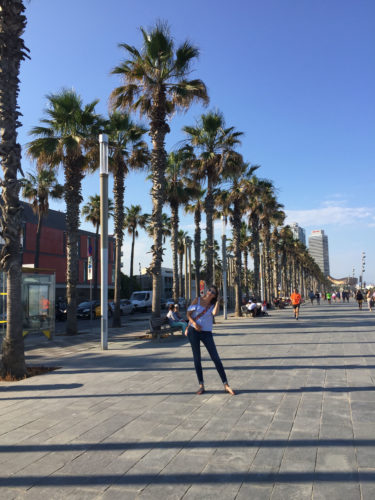 You learn what you need to learn, you know you become stronger, and you have the strongest relationship with yourself than you can even imagine. And that's the best feeling in the world.
      «And you know – after every end there is always a new beginning.»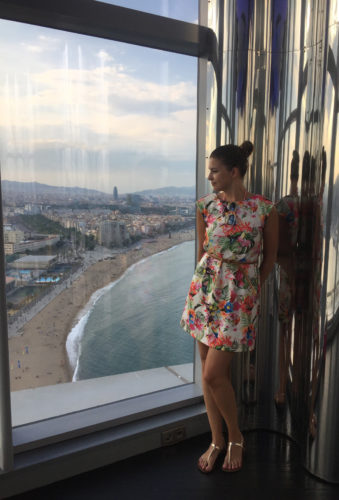 Sophie
Afterword: I met Sophie during my one month study in Barcelona, and she told me her amazing story – traveling to 3 different countries, learning 3 different languages. She is a photographer and I am a journalist and I said it would be fun to do something together: What if I tell your story on my blog. She said, yes, she would love that, then her children can read it later when she gets some. Actually, at that time I thought I would have to write the story, but she wrote this powerful story herself, and sent me a lot of lovely photos from Miami, Verona and Barcelona. I am truly inspired and moved by her story, and I hope you will be too.
Best from Helse-Tine. (Tina. 🙂 )
Do you need to contact me about Sophies story or for some other reason? This is my health blog helsetine.no and I am a Norwegian journalist and editor. My e-mail is tinecec@gmail.com and phone +4792222406