Annonse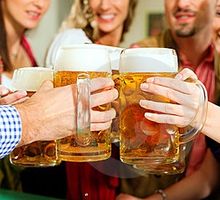 Lørdag kveld spiste jeg burgere med utlendinger som jobber i Norge. Det lærte meg litt om norsk kultur. (English version included.)
–       Jeg må jobbe med mine ski-ferdigheter. Det er viktig her, fleiper en utenlandsk deltager i organisasjonen InterNations.
Vi er på amerikansk restaurant i Oslo. Jeg deltar sammen med utenlandske arbeidstagere i Norge, og noen få nordmenn.
Det er en amerikansk venninne som har introdusert meg for InterNations. Jeg trodde jeg måtte være utlending i Norge for å melde meg inn, men det stemte ikke. Det holder å ha en global mind.
InterNations har et vell av arrangementer i Oslo. Her arrangeres alt fra pubkvelder til middager, kulturelle events og singletreff.
Denne dagen har jeg akkurat lest Kjetil Østlis bruksanvising for nye nordmenn i Norge på nettet. Nå får jeg ironien servert fra andre siden av bordet.
–  Hva som er typisk norsk? Jo, julebord. Don´t  miss the julebord, ler en mannlig deltager. Han prøvde et år å slippe unna og dra på ferie før julebordet,  men fikk ikke lov av kollegene. – Julebord betyr alt i arbeidslivet her. Det er der alt skjer. Og det gjør det også, fleiper han.
– Kaffe. Kaffe er viktig.
–  Og vafler, sier en annen. – Vaffel-fredag. Det har de i kantinen hvor hun jobber.
– Swing, nevner en annen. Han går på swingkurs; han har inntrykk av at det er det menn skal kunne på dansegulvet i Norge. 😉
–  Det rareste med norsk arbeidsliv er fredag ettermiddag på jobben, synes noen. Da har de fleste reist hjem. Årsaken er at de skal på hytta, og vil dra tidlig for å unngå rushet ut av byen. Noen kommer ikke engang på jobb fredag, de har «hjemmekontor».
–  Selv svensker synes dette er rart, sier jeg.
– Really?
– Ja, sier jeg. Selv i Sverige synes de dette med nordmenn og hytter er rart, og at vi ikke er på jobb fredag ettermiddag.
Noen av de utenlandske deltakerne føler at de kanskje jobber noe lenger dager og kvelder enn sine norske kolleger. Likevel synes flere at det er bedre å jobbe her enn andre steder. Det er helt annerledes å jobb her. Flat struktur. Mindre stress. Få som jobber i helgen. Dette setter de stor pris på.
– Ferier! Dere har så mange ferier her. Vinterferie, påskeferie, sommerferie, høstferie, juleferie… Norsk jul er det flere som liker: Synke ned i en sofa i tre dager, bare ha fri, spise god mat, være med venner. Det er bra.
– Tønsberg. Og Lofoten. Fine steder, nevner flere. The fjords! Men det er vel litt sent på sesongen nå. Bedre å vente til neste år?
– Hunder, smiler en annen. Det er viktig her. Der kan nesten virke som enkelte er mest glad i hunden sin? (Ingen kommentar, jeg har katt.)
Norskkurs. Alle deltar de på dette. For å få bedre vokabular. Å mestre språket er viktig. Men det er dyrt! Hvorfor er kurset så dyrt?
–       Akevitt. Haha. Lutefisk. De kjenner til dette også. En kvinne forteller at hun fikk skryt da hun spiste opp  all lutefisken på tallerkenen selv om hun ikke likte den.
–       Tilbehøret! Sier en mannlig deltager. Det er det som er godt.
–       Tilbehøret, nikker jeg over vinglasset og Chicago-burgeren.
Det er det eneste med rakfisk og lutefisk som egentlig smaker bra.
Skål.
Bildet er lånt fra InterNations.
Obligatorisk hytte-video med Ylvis:
English version: Don´t miss the julebord.
Saturday night I ate burgers with foreign people who live in Norway. That taught me a bit about Norwegian culture.
– I have to work with my ski skills. This is important here, says a male member of the organization InterNations.
We are sitting in an American restaurant in Oslo. I attend with expats in Norway – and a few Norwegians.
An American girlfriend introduced me to InterNations. InterNations has a lot of arrangements in Oslo. Pubnights, dinners, cultural event, single events and seminars. This day I just read Kjetil Østlis bruksanvising for new Norwegians in Norway. Kjetil Østli is a famous Norwegian journalist and uses humour when he describes how to fit into the Norwegian culture.
Now I get the irony from the other side.
– What is typical Norwegian? The julebord. Don´t  miss the julebord, says a male foreigner and laughs. One year he tried to escape and go home before the Julebord had taken place, but his colleagues would not let him do that.
– Julebord means everything in worklife here. Everything happens there, he smiles at me.
What else is important is coffee. And waffles. Waffle-Friday. They have that at work.
-Swing, mentions another. He attends a dance course to learn swing, he has the impression that this is important for men to know on the dancefloor here.
The most peculiar with Norwegian worklife is Friday afternoon at work, say other people. Then many Norwegians already left to go to their cottage; they want to avoid the traffic. Some don't even come Friday, they have "home office."
According to a book I read about differencies in Scandinavian work culture even Swedes find it funny that Norwegians go up to their cottages in the mountain Friday after lunch time and are not to reach.
Really? There is this big difference between Scandinavian countries. They did not know that.
Some of the people at this dinner feel that they maybe work even more than their Norwegian colleagues. But they prefer to work here. It is totally different from other countries they have worked in. Flat structure. Less stress. Few people work in the weekends. All these things they appreciate.
Holidays! You have so many holidays here: Vinterferie, påskeferie, sommerferie, høstferie, juleferie…
Norwegian Christmas they like: Just sit in a sofa for three days, have time off, eat good food, be with friends. This is good.
Tønsberg. And Lofoten. Nice places, they have heard. The fjords! They want to see the fjords. But it might be late in he season now. Better wait to next year? Dogs, someone mentions. Pets and especially dogs are important here. It can seem that some people love their dog more than their family? (I don´t comment on this, the fact is I have a cat.)
Norskkurs. They all attend Norwegian courses. To get better vocabulary. To know the language is important. But why are the courses so expensive?
– Aquavit. Haha. Lutefisk. They know about this too. A woman tells me her Norwegian friends were totally impressed that she ate all her lutefisk even though she did not like it.
– Tilbehøret! A man says. The food that is served WITH the lutefisk. That is the best part.
We are at this time munching Chicago burgers and drinking wine, and I can just nod about what he says. I am not so fond of lutefisk and rakfisk myself. Tilbehøret makes it worth eating.
Skål.
Watch this cottage-video with Ylvis: