Annonse
Visit the authentic Barcelona, seee the magical Montserrat, eat and dine well in fantastic restaurants. Øyvind Hagen is  a famous Norwegian book agency director. His wife lives in Barcelona and he has been travelling back and forth between Spain-Norway for many years. Here are his tips for anyone curious of the beautiful city. Enjoy.
Sarriá. Use a few hours on walking around in the tiny and authentic district Sarria-Sant Gervasi (Sarriá).
See the area in google maps here.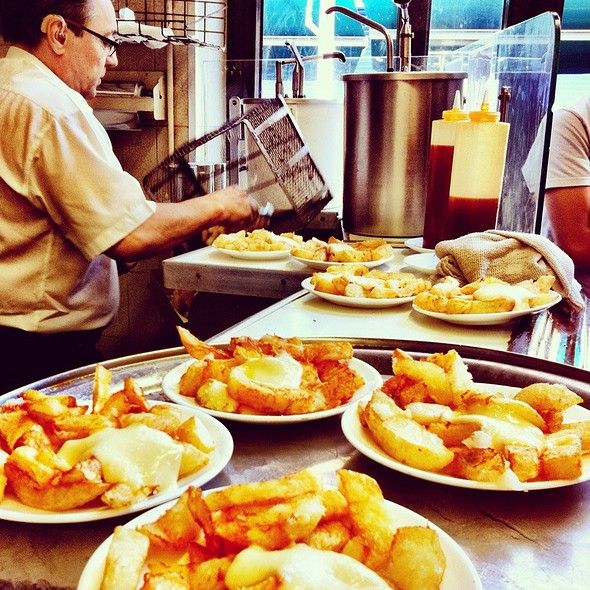 Patatas Bravas
Nice bars, some really nice restaurants and cafes, shops, small churches, an authentic Barcelona, almost tourist-free. It is ten minutes from downtown by metro (get off at Maria Christina), which is fastest option in Barcelona. But taxis are cheap and you see more. There is a bar there that is famous throughout Spain for its patatas bravas: Bar Tomas, Major de Sarrià 49, which is all they serve besides beer and wine. There are also two outlets from one of the best bakeries I know of there:               L´obrador.  They also have free wi-fi.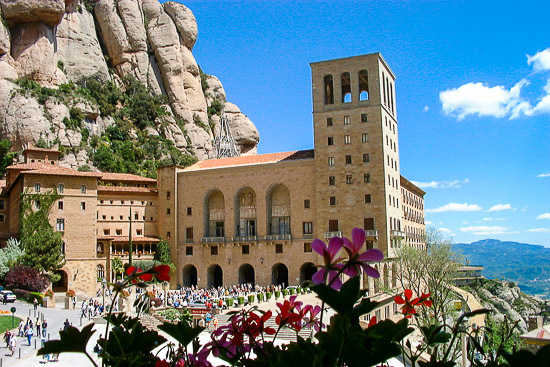 2. Montserrat. If you have time, you should rent a car or take the train and visit Montserrat, a magical place high on a strange mountain where hermits live higher up, one hour south of Barcelona, with a monastery, a monastery hotel, an OK restaurant, and a fantastic cathedral with a BLACK MADONNA, and a completely incomprehensible gallery / museum of modern European art as well as Egyptian art from several thousand years BC. By car it takes about an hour each way.
http://www.pbase.com/dawnpando/image/137857765
Dining and wining
Favourite restaurants for lunch and dinner, where you should book in advance (remember that they close at between about 3 pm and 8-9 pm, during this period a tapas restaurant must do).
L'Olive:
Our weekly favorite. Near 100% tourist free, classic family restaurant. Good ambience, quiet, inexpensive, delicious food, close to Placa Catalunya (this is center). Bacalao, the best Arroz negro (rice with squid and sepia, con alioli) and Arroz caldoso (a little suppete paella with seafood for seafood lovers). They have the best pan con tomate (coca) , Catalan traditional food, in the city.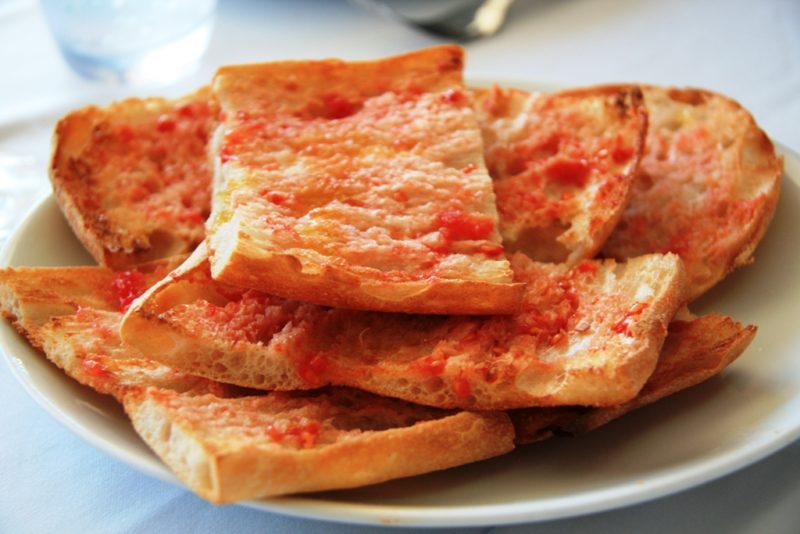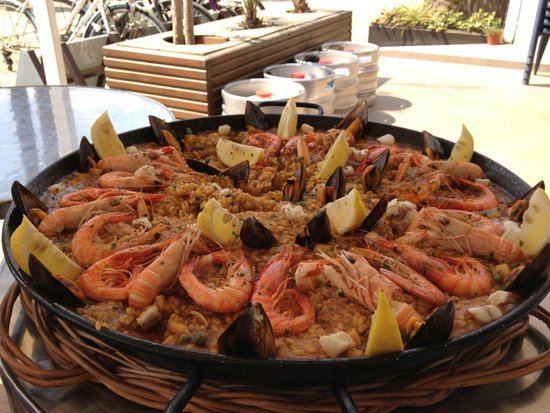 Els Pescador:
Ancient fish restaurant, more expensive than L'Olivier, but a rather «reasonable» gourmet restaurant with great atmosphere. Fresh fish, exquisite paellas, beautiful bacalao, and nice entrecote. Located towards a small park, nice for kids. Located in Poble Nou (must take a taxi, ten minutes from the center), which is close to the beaches in a slightly shabby area. If it is hot enough, try to get a table outside, which is just magical. Afterwards is fine with a stroll in Poble Nou, a very nice, old and historically important Barcelona village.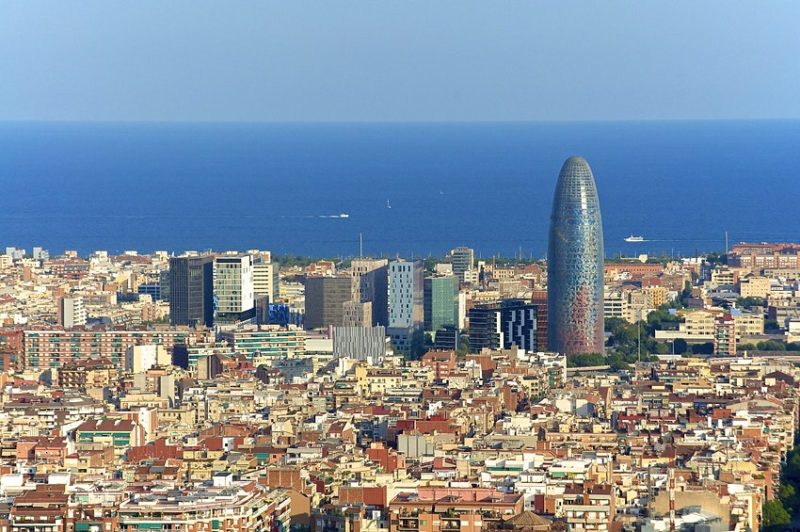 Meat restaurant in the center. Wonderful meats and tasty burgers, very reasonable prices, nice atmosphere. The restaurant is on the second floor, on the first floor is more of a burger café.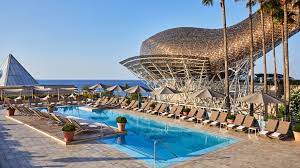 Brunch on Sunday (recommended): Hotel Arts. Located on the beach at the Villa Olympica. Exquisite brunch buffet, arrive at 12 and leave at 17, cava, wine and coffee in the quantities you want, everything included, beautiful garden (perfect for kid) outside when it is hot, sit outside. Before and after: Walk along the beach, visit the marina. NB! They have now changed, so the brunch is in their top floor gourmet restaurant. Also wonderful.
Siete Puertas
In the center is also Siete Puertas, The seven doors, a very old restaurant, which mostly only have paella, and it is fantastic. Here are a lot of tourists, and locals – a nice mixture. Enjoy paella with cava!
Disfrutar
Not to forget: Disfrutar. https://www.disfrutarbarcelona.com/restaurant-en.  I was there when they started. My best experience ever. After that the restaurant received 3 Michelin-stars and i was not able to get a table anymore. It is worth every peseta. make a try. Book online in three months, for instance.
Booksellers
The very best is La Casa del Libro in Rambla Catalunya, just above Placa Catalunya, my first choice. New, big and modern. A rebuilt theatre. Maybe closed now?

(Just around the corner is a wonderful chocolate café. Homemade chocolate and confectionery (they have only two outlets, one in Madrid and one in Barcelona) and hot and cold cocoa from 50% to 90%. You can also get lunch. No reservations, but they always have tables.)
La Casa del Libro, far up the Passeig de Gracia, No. 62, right hand side, is also great and huge.
Fnac at Placa Catalunya, opposite the El Cortes Ingles, and in L'Illa, on Diagonal close to Placa Maria Christina.
Art:
My favourite is Caixa Forum, Poble Espanyol, Avda Marques de Comillas, 13 – always exhibits the most wonderful contemporary artists, free entrance.
Picasso Museum is worth a visit, it is located in the old town.
Culture: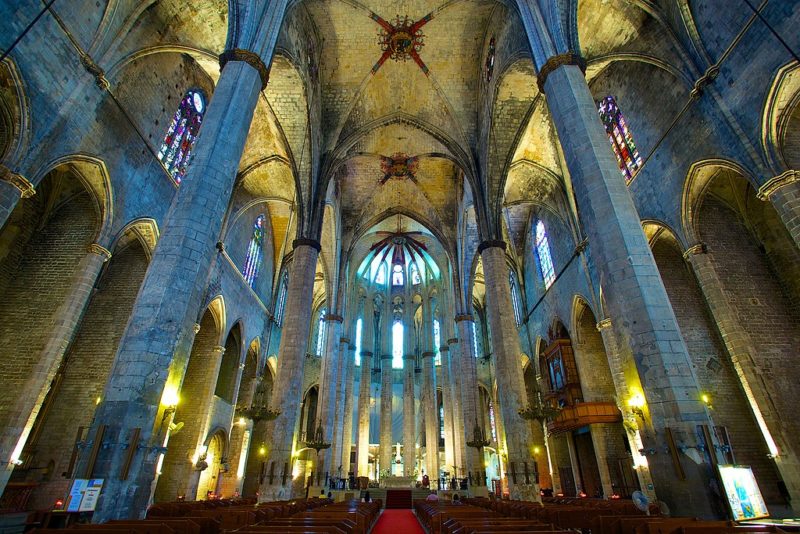 Foto: Wikipedia, By Jiuguang Wang
What you MUST see is La Santa Maria del Mar cathedral which is the basis of the novel La Catedral del Mar (Havets katedral). It's possible to get guided tours (recommended), book in advance. It is located almost next to the great cathedral, which also must be considered a must. Both are in Barre Gotico, the old city center, and close to the 2000 years old Roman walls. There are also all the small bars. Read La Catedral del Mar whilst there, as the streets still exist, and it's all about the creation of this in my opinion one of the most beautiful churches in Europe.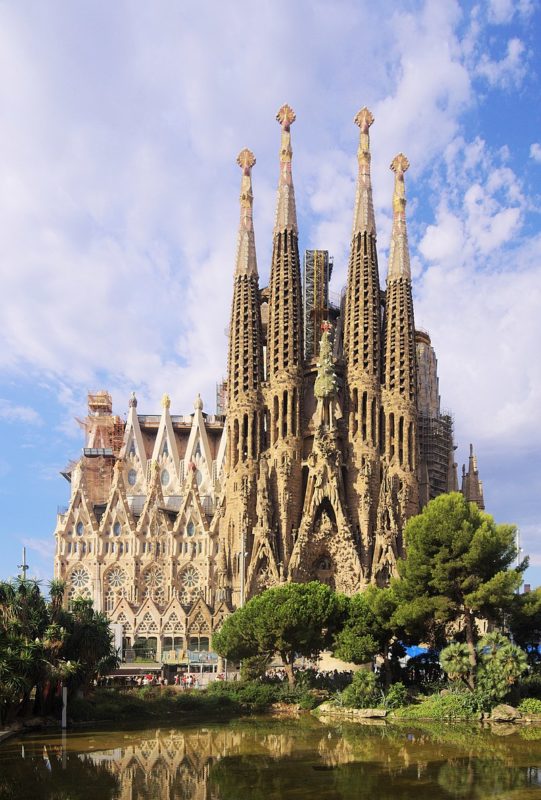 Foto: Wikipedia: By C messier
And then of course you should see Gaudi's unfinished cathedral, which was completed recently after many years and consecrated by the pope, Sagrada familia. However, reserve online in advance.
Shopping:
Lots of small shops in old town and along and between Passeig de Gracia and Rambla Catalunya, but the wide range and the fastest experience you get in El Cortes Ingles, located on Placa Catalunya.
At La Rambla, on the lower side of Placa Catalunya, where all the tourists go, is also La Boqueria, an amazing market hall for fruits, vegetables, meat and fish, and where they have small cafes. Have breakfast there.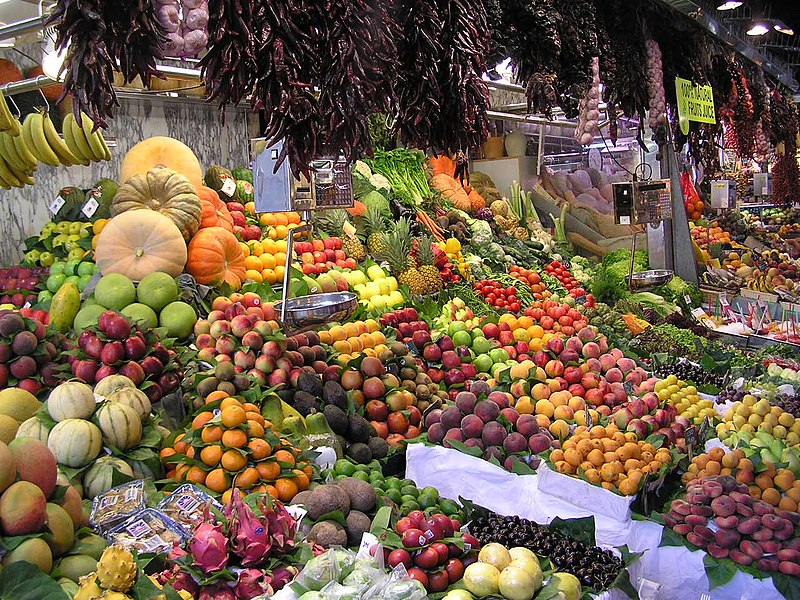 Foto: Wikipedia: Dungodung
Mercat de Santa Caterina is also wonderful, and has a nice restaurant. Francesc Cambó, 16.
Along the way, you can visit the street Carrer Aribau. (This is almost next to Els Pescador.) There are several cafes that sell Orxata, a natural soft drink based on roots growing around Valencia. Very good.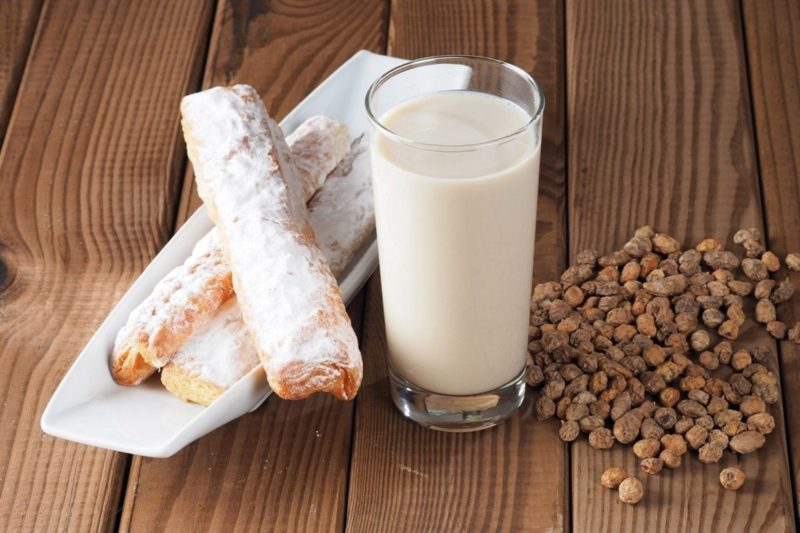 In Poble Nou you also find a shop specialized in Orxata.
Watch out for pickpockets
Swarming with pickpockets, you will be robbed of everything in a split second if you don't pay close attention. Do not drop the bag out of sight at the airport and in the taxi queue. Keep only money and a credit card on you while walking, in a pocket where it's not easy to put down a hand.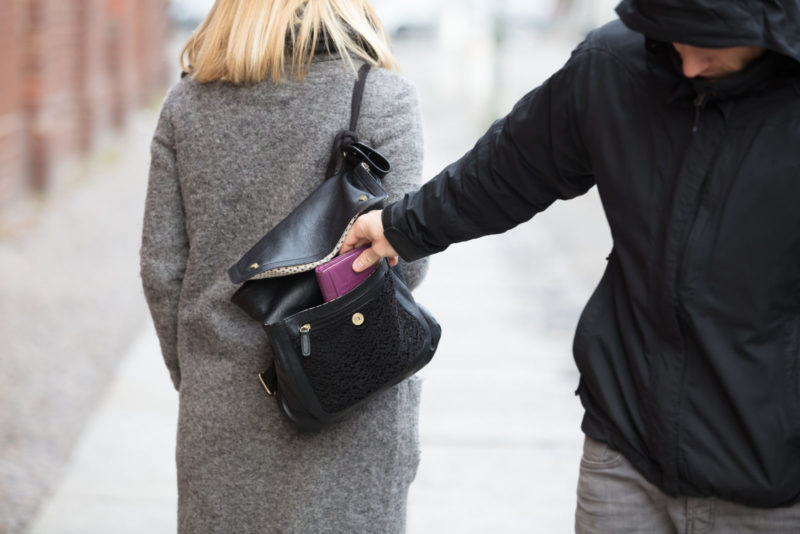 Tipsene er sist oppdatert i 2018 og det kan være noen endringer.