Annonse
This is what I learnt from the enormously popular TV-program «Good morning, Norway» yesterday. It is always cold here, and still snow, but to welcome spring you can still wear all your summer dresses with  flower pattern. Just wear tights, T-shirt and boots with the outfit – and a jacket.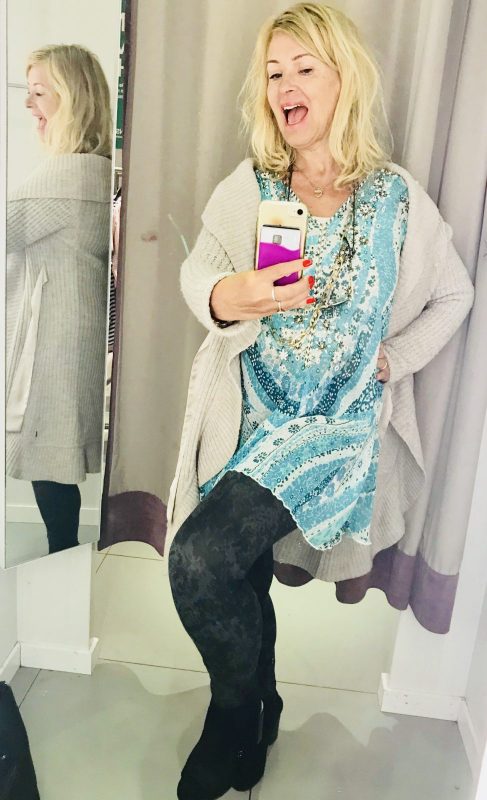 I am really inspired after having watched «Good morning, Norway.» It is an extremely popular program for housewives, retired people, people with home offices all and all of us who pretend to be really busy but are actually almost out of work. In this program, they have the sweetest and cutest fashion expert! Her name is Marianne Jemtegård, and besides being a cool fashion expert, she is also pregnant with some smart stud designer she met in Paris!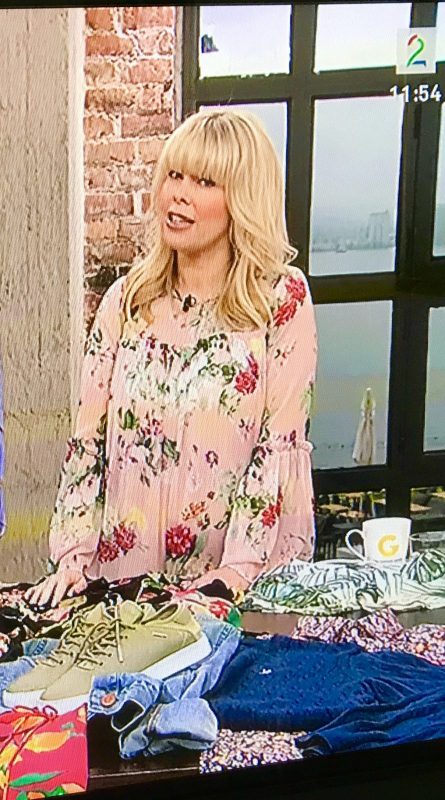 She really wanted to have a child before it was too late, but her boyfriend did not want a baby. So she packed her suitcase and left him! That is so brave and so right..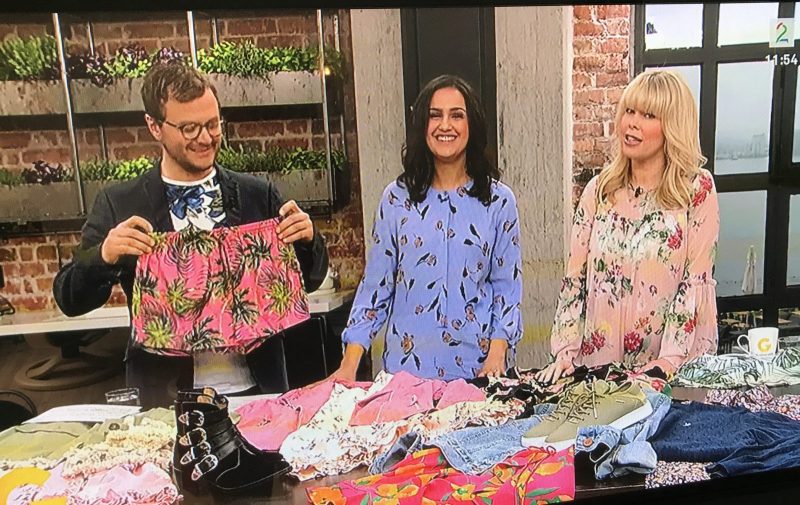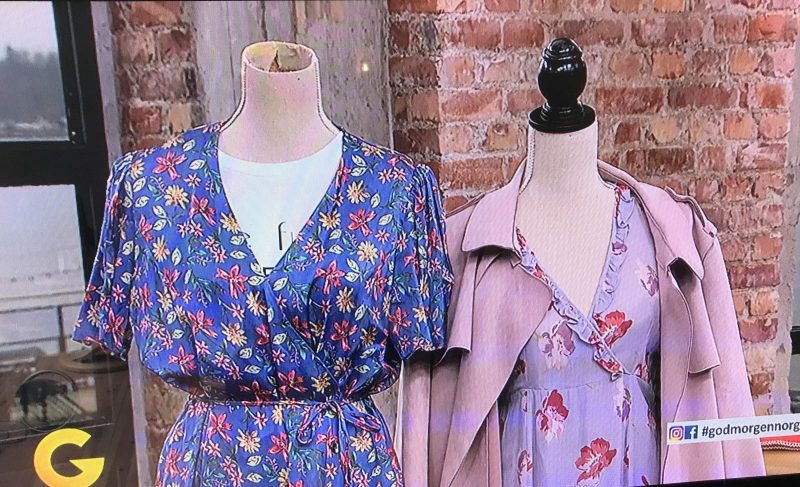 Now she is blooming more than ever, not because she is finally pregnant with her cute, foreign guy, but also because she is showing us all the ways we can use our summer clothes in winter and early spring: Just wear your favourite T-shirt under the dress, and put on some stillongs or tights.  And  put on some cool boots! It is very smart, because here in my cold, small country Norway up in northern Europe we never know if it will snow, rain or be 16 degrees celsius. The weather changes in seconds!
I got inspired and wanted to celebrate spring – brrr
So, inspired by Marianne- the blonde woman right in the photo –  and Good morning Norway, I put on a T-shirt, a green dress that I really like, the tights I bought at HM in Miami because of the freeeeezing air condition that made my legs feel numb – and a jacket.
– Wear a leather jacket or a woolen jacket with the outfit, she said, and both look cool. It is still too cold for sandals in Norway, and mine look too sweet, so I put on some boots with fringes instead.
I tried the outfit in my living room and hallway, and all jackets look cool with it, I think.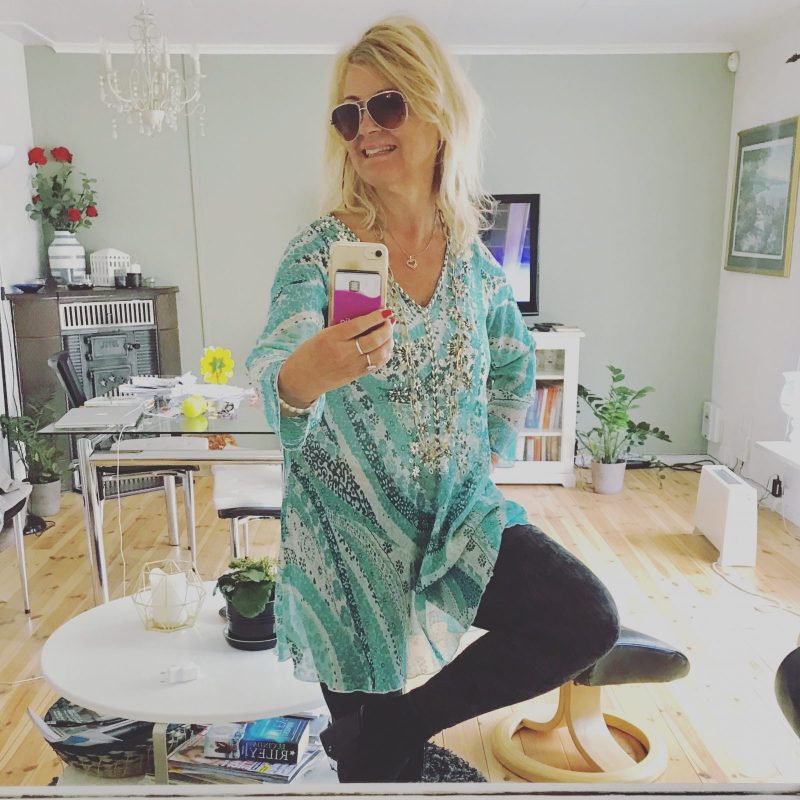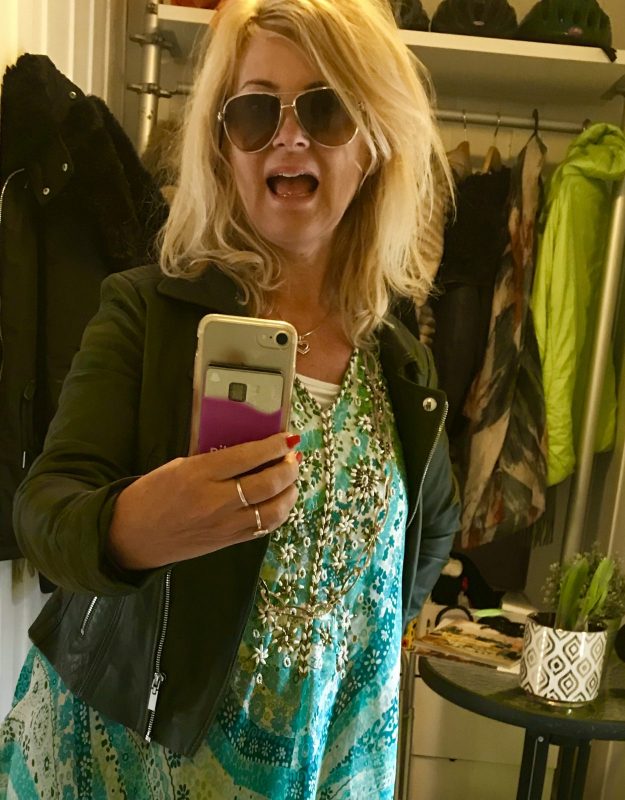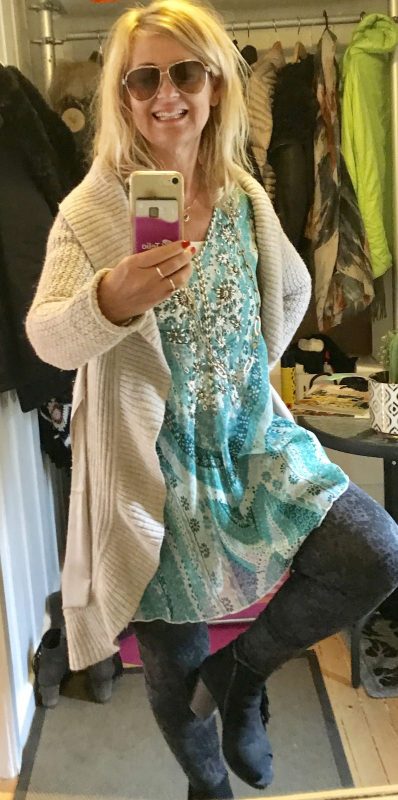 «Voila! is this cool or not? We don´t have to dress so perfect, we can dress for fun and be more colourful.»
Now I am looking for more stylish tights, but I haven't been able to find any yet. They are either too colorful or just grey or black. Send me tips if you know where I can find cool tights that match with dresses. On a cold quiz night with my friends, I wore thick, dark red pantyhoses, and was warm all night long, until one in the morning…  The red dress is a cheap dress I bought on internet years ago and the leather jacket is from Alanya.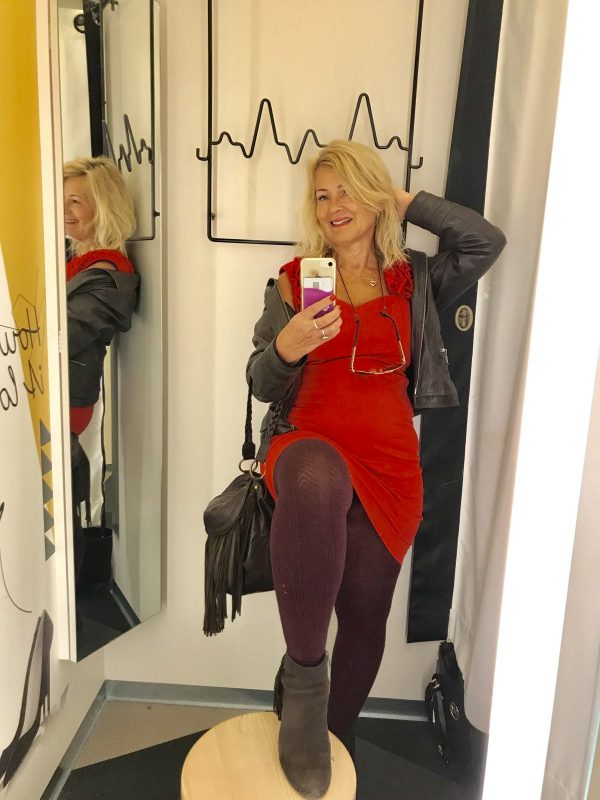 How do you like to dress in spring? Last time I went for a walk on my favourite local beach, I skipped my pants and wore a summer dress with tights, boots, a small jacket and a scarf. Why not? 🙂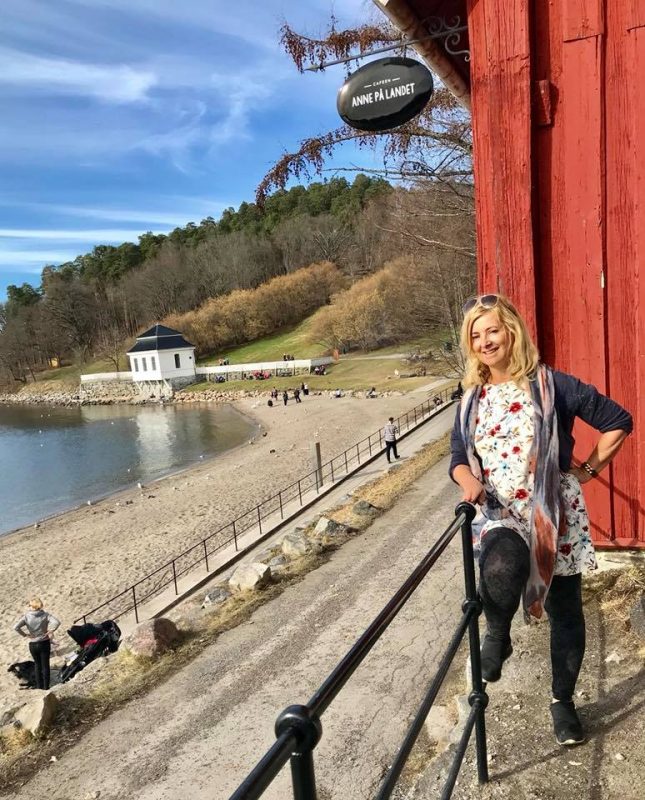 I have liked dresses since I was a child, and I still like skirts and dresses a lot. One of my female friends loves pants, and she thinks I am too obsessed with skirts and dresses, but who cares. They are comfortable and feminine.
And here is outfit number four! I love this old orange dress. Time to get it out of the closet! A thick leather jacket is perfect at night and the shoes are one of my favourites; although old, I dont have the heart to throw them away. The tights are light lilac and I found them when searching my wardrobe.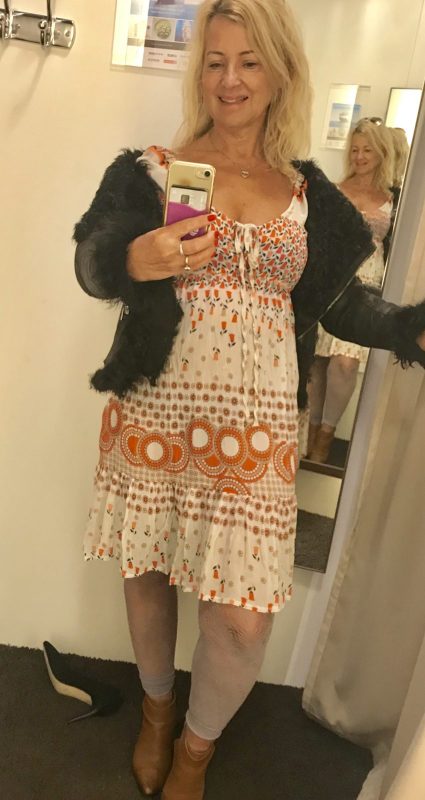 I was not just inspired by Mariannes ideas – I was so thrilled about them that I took photos of the TV screen and sent the images to my son and his girl friend, saying this is the way we should look this spring.
They were both in school, but they were polite enough to answer me on messenger. My son said cool, the girl also, but she was a bit sceptical about wearing T-shirts under dresses. 🙂
«Would you wear T-shirt with your favorite dress when it is cold outside, or are you scared it might ruin your outfit?»
Also read, in Norwegian: Fashion expert Marianne is pregnant with French stud.
Also read: Outfit of the day: I paid just 5 dollar for this amazing jumper
Also read: What I learnt in Florida: The American Dream does not exist, here are 6 reasons why
Also read: Who said that Norway is expensive?
Also read: Welcome to Norway! 🙂