Annonse
Liv Signe Navarsete: «We want your pussy.» It is indeed nothing to be proud of! Ten Norwegian male politician friends all deny having sent this message to their colleague. They have denied it for two years, and they all protect each other!  Mrs Navarsete feels deeply harrassed. She was on a sick leave when she received this message in her home late at night: She felt they were writing her this message to tell her she was an ass who deserved losing her job. #MeToo
You would think this could happen in kindergarten or in high school – maybe. Not in a mens ´festive weekend  in a cabin in Sweden where grown up politicians were gathered. (In Norway we call these tremendiously popular fiestas for «hyttetur».)
These were 10 Norwegian men in high positions, several mayors, leaders and a state secretary of the Center party.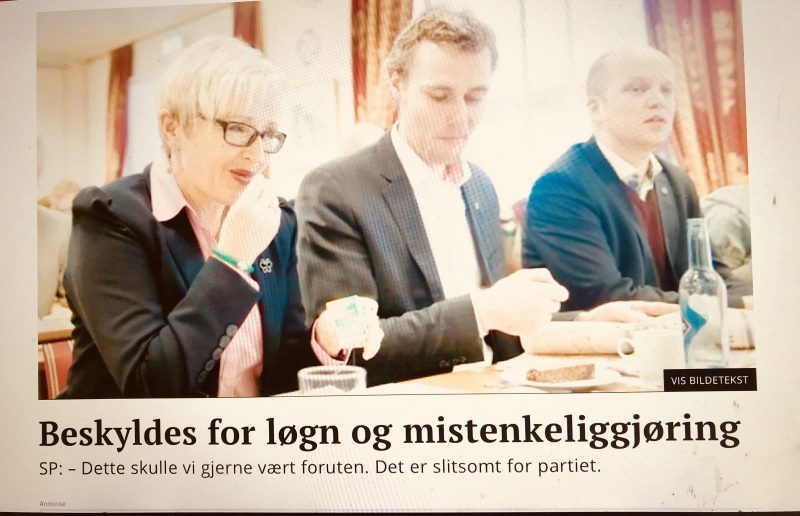 But this is what happened! Liv Signe Navarsete (left in photo) who was pressured to leave  her job as a political leader of the Center party because she was leading in a way that many people disliked, got this message after midnight.
Her friend claimed to be stuck in the toilet
«We want your pussy,» it said. The message was sent from messenger, from her Facebook friend, state secretary of the party Morten Søberg, who was indeed present at the weekend trip in the cabin. But he claimed to have been in the lavatory: He said that he had left his phone on the table and was not present at the time the awkward and shameful message was sent.
Really, should we believe that? Two years later they all still deny having sent this offensive message to Liv! Ola Borten Moe, the deputy leader of  the party who was the one to get rid of Liv, says he is shocked and disappointed that all his friends deny having sent the message! Read Norwegian article in Aftenposten here. 
Really, should we believe that? He hated this woman, at least he strongly worked to get her removed from her job – and succeeded.
Will force the guilty man to come forward
Now the top, top leader of the party (general secretary we call it here)  has promised that  he will look into this matter one more time – and this time he will force the guilty man to confess.
«What if they did it together, and had a big laugh about it after 10-15 glasses of whisky and beer? Because that is what cabin weekends out of town with politicians is all about. Drinking and gossiping (and maybe working a little.) Actually they were having a «trøndersk» fiesta, and in Norway Trondheim is a city where people sometimes have a bit difficulties to behave. Other scandals have happened with Trondheim-politicians before. They are a bit like barbarians, they grew up in a local bar and have wild parties in the fields drinking home made liquor like «karsk.» 
It could be true they really liked her – or  not…
Come on, guys!! This is very, very shameful, and I am not at all impressed with you. You have leading political positions — and still you act so childish!
Worse MeToo-stories have happened, and Liv is a strong lady who will survive this stupid story. But you know what is most tragic? She read this note as if they said she was some sort of bad lady they wanted to get rid of and put down!
I am more naive and positive thinking – if someone sent me this message in the middle of the night – well, I would really think these guys were insanely in love with me because I am awesome and that they were desperate to have sex with me!
It has happened to me more than once  that horny men send me messages after midnight. But this poor lady did not take it as a compliment at all.
And it was not of course, I am just joking. :/
The men and best friends protect each other 
«Isn't it ironic how all these men stick together and protect eachother? They are all friends, and men do not kiss and tell – not when it means you have to talk badly about your best friend. Also at work, they protect each other: They all know one of the lads drinks to much, is too intimate with female coworkers at parties and cheats on his wife and comes late in for work every second day , but if you ask them if they know something about this, they will most likely hmmmm, yrrr…. mumble something, look in another direction and walk away.
Not all of course – some good guys would be honest and tell you everything (especially if they kind of want you)  – I am just saying brotherhood and being mates also means you do not let your best friend down when he is in troble.
Have a good one!
ps; I will never join politics and try to be a politician again, that´s for sure… its just too much bullshit  and way too much alcohol and MeToo involved in it for me.
Ciao.
Also read, in Norwegian: The general secretary will force the guilty man to say he is sorry.
Also read: The scandal in the oat field: Politician refuses to apologize sex with teenage boy
Also read: What I learnt in Florida: The American Dream does not exist, here are 6 reasons why