Annonse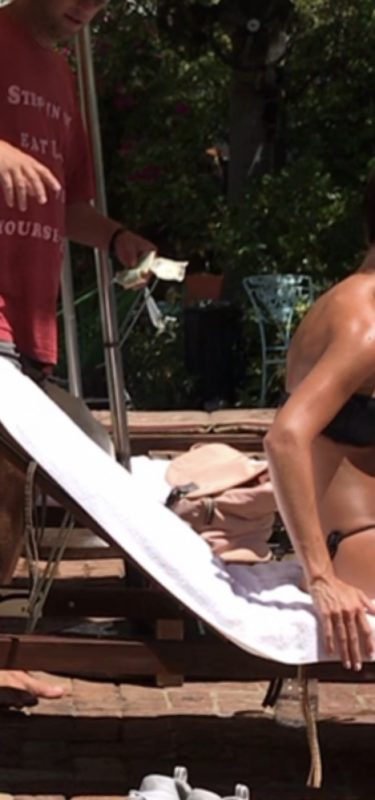 – No one else would be talking to you! A kind woman at the pool is about to get enough of this drunk boy ´s behavior. Earlier, she has been filming him, saying she will send it to him so that he can see how he acts. The manager has been trying to kick him out, but he keeps coming back and he is loud and swearing.
One hour later, he is taken away by the police.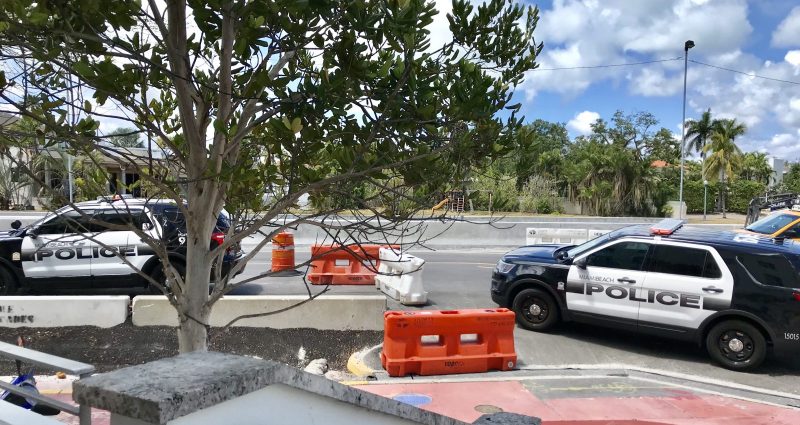 Just as I was about to tell about my chill and idyllic stay at Freeman hostel in Miami, a drunk Englishman made my day.  For days now I have been enjoying my stay in this reinvention of one of the Miami Beach's classic 1930s Art Deco buildings.  A chill oasis with a flowery backyard with pool. I would tell about this amazing place where the birds are singing in the trees, the nice garden where they grow their own organic vegetables, the artistic scenery, the nice and colorful chairs and sofas, the good music, the terrific food and drinks, the  reward-winning bar outside Broken Shaker and the famous 27 restaurant.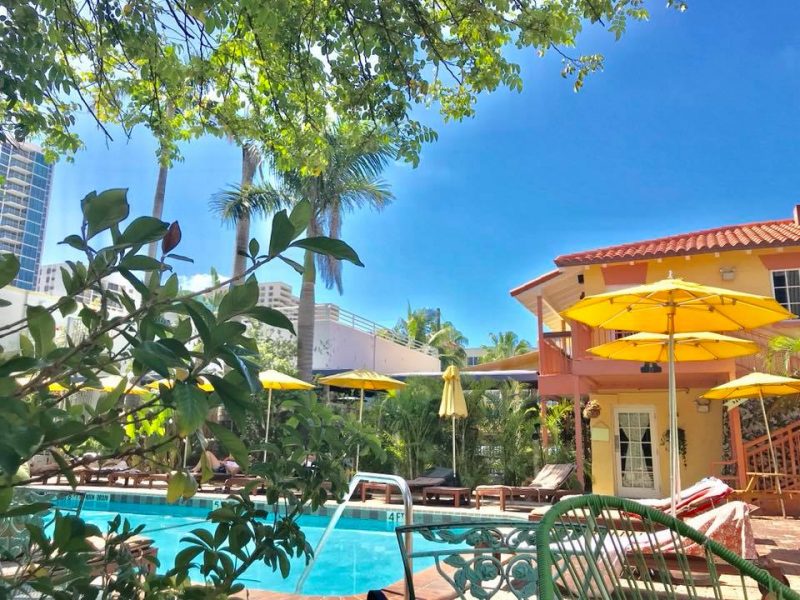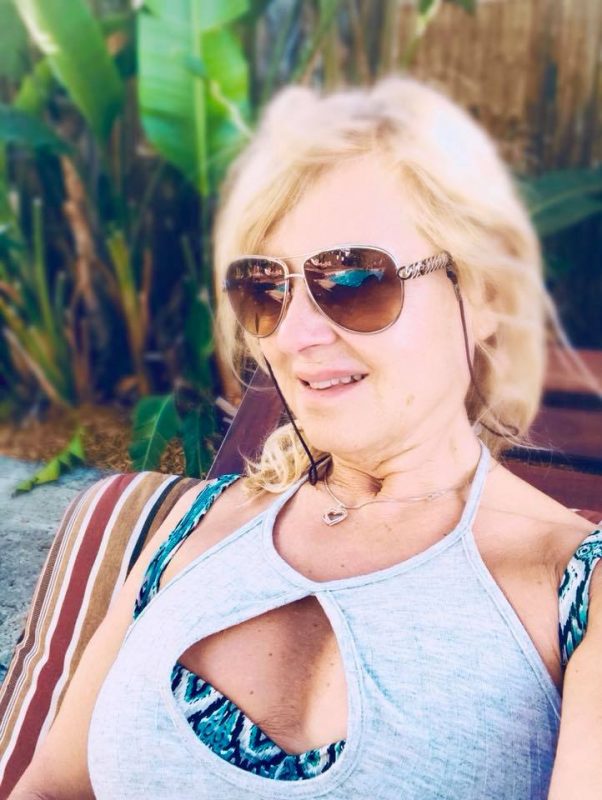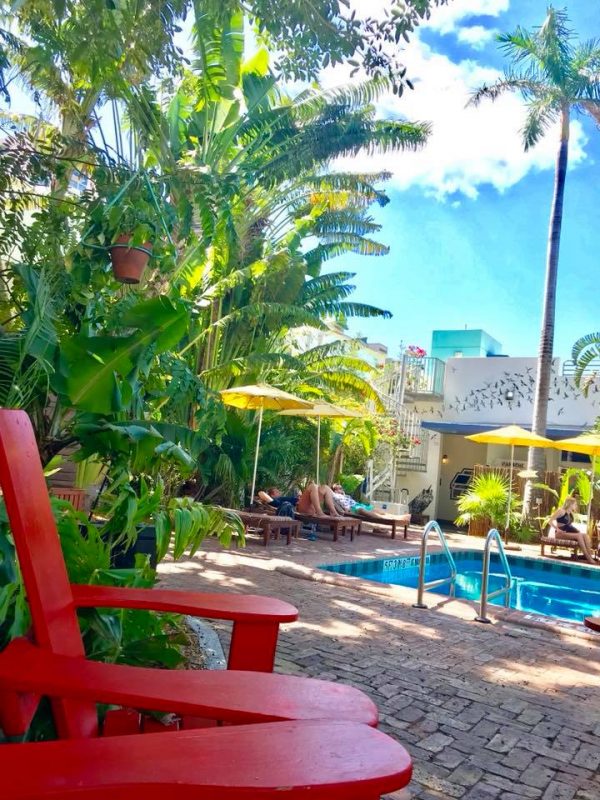 It is such a vibrant and still peaceful atmosphere her – and I have extended my stay because it is so much better than cheap hostels in the city and I needed some rest. In the weekend a big wedding took place here; there were more than 90 guests. The wedding took place on the beach and the couple were dressed  in costumes, pretending to be  prisoners of love. What a fun and creative idea! The reception was onsite. I talked to my son on the phone  for like an hour and showed him around with FaceTime and said this would be a perfect place for him and his girl friend to get married or bring a small kid, if they get one. He said the place looked pretty cool. It is cheap and still so much value for the money.
I love vacation, he screams
On my 8th day at Freehand the scene changes: One hour before I am leaving for my Spanish class in Lincoln road, it happens. I see a man sitting in a pool chair, and he is really loud – talking to himself: «Aunt Mary, I love you. I love vacation,» he screams.  I smile at first, because Mary is the name of the organic garden here where they grow their own organic vegetables, fruits and herbs, and it is a bit funny. I can hear his accent is British English. He trows himself in the pool with shoes, trousers and pants on and looks wasted. He must be on drugs or booze.
This would be a nice, good Englishman when clean and sober. But its clear he has been drinking for a long time – like a real, good alcoholic. The waiters stop by and sigh and say «oh man – I dont wanna work tonight with him around here – its been going on the whole week. Last night he was harrassing some guests in the restaurant.»
«After he got a warning, he rented a suite,» a girl at the pool says. There he could drink even more.
A young guy dive into the pool to look for his key card
A manager appears and points at him, it is clearly he want the Englishman  out of the pool area. The man gets the message, he is apparently mad, but at the same time tells the manager he must never forget that he is a champion. It is clear that the manager is not at all flattered.
Just as the man is leaving the pool, a girl calls for him: – S….., you forgot your shoes. He says he will be back, I think it is a threat. The drunkard comes  back after some minutes, he has forgotten his key card in the pool and asks for help. A young guy dives into the pool, find the key card and give is to him.  One more time he leaves the pool area, he is mad and kicks his foot into the pool and makes a small splash.
I will not touch your fine ass
It is not over. Five minutes later he is back, and climbs behind the girl to get his wet shoes. «I will not touch your fine ass,» he says, extremely loud.  She is uncomfortable ands she says something like » Nobody else would want to be seeing you (or speak to you.)» He rambles on talking about niggers, killings and bitches. He calls the skinny girl fatso and tells her she has to lose some weight. It is extremely embarrassing.
I leave to my Spanish class not much later, and am shocked to see two police cars outside the reception. Apparently the manager now had enough of drunkboy  and wants him out. One week with this badass was enough.
He came here to recover
I ask for information in the reception and is told that the poor guy apparently came her to sober up, recover and get in shape – but the tempting booze was way too easy to find – and he ended up ruining his luck both with the super nice hostel and the super nice girl that was so patient with him. He also bothered my  room-mate on his way to beach, shouting with a bottle in his hand to the older man that he would like to be his friend. My roommate is 72 and wasn't really ready for it.
«S´s family or friends – if your read this – please help this guy out.»
It is not about niggers, killings or bitches as the angry man was shouting about – the drama was all created by one young, white English man with snobbish accent, enough money to rent a suite and too drunk to know the American way of behaving.
OMG.
There are so many tragedies happening with too much booze and drinking. This is just one small story.
I still will recommend Frehand, though. Awesome place – and they took care of the tragic situation in a good way.
Just sad you missed out of all the fun, S. Hope you are now being taken good care of. I´d like to know how things are gong with you, so please send me a note. If you dont like what I wrote, we can work on a more happy ending. 😉
Ciao!
At Freehand hostel and hotel in south beach, Tina.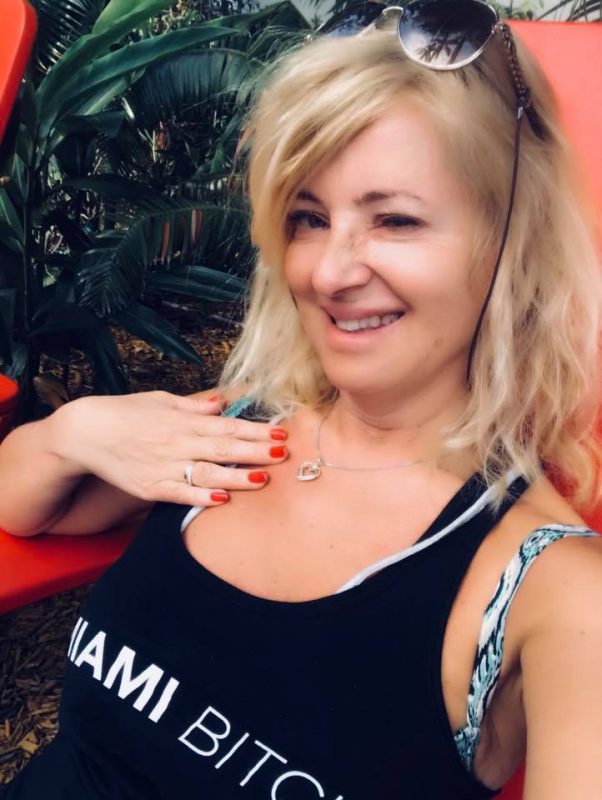 Global Burden:
In 2012, 3.3 million deaths, or 5.9 percent of all global deaths (7.6 percent for men and 4.0 percent for women), were attributable to alcohol consumption.12
In 2014, the World Health Organization reported that alcohol contributed to more than 200 diseases and injury-related health conditions, most notably DSM–IV alcohol dependence (see sidebar), liver cirrhosis, cancers, and injuries.13 In 2012, 5.1 percent of the burden of disease and injury worldwide (139 million disability-adjusted life-years) was attributable to alcohol consumption.12
Globally, alcohol misuse was the fifth leading risk factor for premature death and disability in 2010.  Among people between the ages of 15 and 49, it is the first.14 In the age group 20–39 years, approximately 25 percent of the total deaths are alcohol attributable.15
Also read: How I survived sleeping in a bunkbed in a small room with 5 guys for a week
Also read: What I learnt in Florida: The American Dream does not exist, here are 6 reasons why
Also read: Alcohol abuse statistics